Posts for tag: gum disease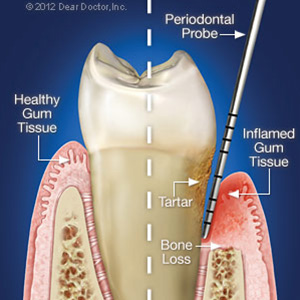 If you're over age 30 there's a fifty percent chance you have periodontal (gum) disease—and you may not even know it. Without treatment this often "silent" bacterial infection could cause you to lose gum coverage, supporting bone volume or eventually your teeth.
That's not to say there can't be noticeable symptoms like swollen, red, bleeding or painful gums. But the surest way to know if you have gum disease, as well as how advanced it is, is to have us examine your gums with manual probing below the gum line.
Using a long metal device called a periodontal probe, we can detect if you've developed periodontal pockets. These are gaps created when the diseased gum's attachment to teeth has weakened and begun to pull away. The increased void may become inflamed (swollen) and filled with infection.
During an exam we insert the probe, which has markings indicating depths in millimeters, into the naturally occurring space between tooth and gums called the sulcus. Normally, the sulcus extends only about 1-3 mm deep, so being able to probe deeper is a sign of a periodontal pocket. How deep we can probe can also tell us about the extent of the infection: if we can probe to 5 mm, you may have early to mild gum disease; 5-7 mm indicates moderate gum disease; and anything deeper is a sign of advanced disease.
Knowing periodontal pocket depth helps guide our treatment strategy. Our main goal is to remove bacterial plaque, a thin film of food particles that collects on teeth and is the main cause and continuing fuel for the infection. In mild to moderate cases this may only require the use of hand instruments called scalers to manually remove plaque from tooth surfaces.
If, however, our periodontal probing indicates deeper, advanced gum disease, we may need to include surgical procedures to access these infected areas through the gum tissue. By knowing the depth and extent of any periodontal pockets, we can determine whether or not to use these more invasive techniques.
Like many other health conditions, discovering gum disease early could help you avoid these more advanced procedures and limit the damage caused by the infection. Besides daily brushing and flossing to remove plaque and regular dental checkups, keep watch for signs of swollen or bleeding gums and contact us for an appointment as soon as possible. And be aware that if you smoke, your gums will not likely bleed or swell—that could make diagnosis more difficult.
If you would like more information on treating gum disease, please contact us or schedule an appointment for a consultation. You can also learn more about this topic by reading the Dear Doctor article "Understanding Periodontal Pockets."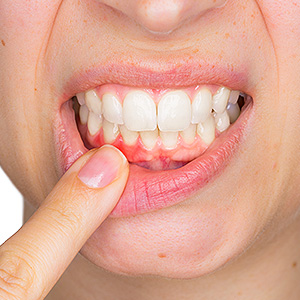 If you think gum disease only happens to the other guy (or gal), think again. If you're over 30 you have a 50-50 chance for an infection. After 65 the risk climbs to 70 percent.
Fortunately, we can effectively treat most cases of gum disease. But depending on its severity, treatment can involve numerous intensive sessions and possible surgery to bring the disease under control. So, why not prevent gum disease before it happens?
First, though, let's look at how gum disease most often begins—with dental plaque, a thin film of bacteria and food particles built up on teeth and gum surfaces. If plaque isn't consistently removed through daily brushing and flossing, it doesn't take long—just a few days—for the bacteria to infect the gums.
While it's not always easy to detect gum disease early on, there are signs to look for like red, swollen and tender gums that bleed easily when you brush or floss, and bad breath or taste. The infection is usually more advanced if you notice pus-filled areas around your gums or loose teeth. If you see any of these (especially advanced signs like loose teeth) you should contact us as soon as possible.
Obviously, the name of the game with prevention is stopping plaque buildup, mainly through daily brushing and flossing. Technique is the key to effectiveness, especially with brushing: you should gently but thoroughly scrub all tooth surfaces and around the gum line, coupled with flossing between teeth.
To find out how well you're doing, you can rub your tongue along your teeth after you brush and floss—you should feel a smooth, almost squeaky sensation. You can also use plaque-disclosing agents that dye bacterial plaque a particular color so you can easily see surface areas you've missed. You can also ask us for a "report card" on how well you're doing during your next dental visit.
Dental visits, of course, are the other essential part of gum disease prevention—at least every six months (or more, if we recommend) for cleaning and checkups. Not only will we be able to remove hard-to-reach plaque and tartar, we'll also give your gums a thorough assessment. By following this prevention regimen you'll increase your chances of not becoming a gum disease statistic.
If you would like more information on recognizing and treating gum disease, please contact us or schedule an appointment for a consultation. You can also learn more about this topic by reading the Dear Doctor magazine article "How Gum Disease Gets Started."