We have an amazing staff with years of experience in caring for people just like you. All our professionals at Lake View Dental Associates maintain the highest levels of accreditation and pursue ongoing education to stay on top of the latest trends in dentistry.
Gabriella B., RDH , has been in the dental field for 15 years and graduated with a Bachelor's of Science in Dental Hygiene from Kennedy King College at the University of Illinois in Chicago. Gabi was born and raised in Caracas, Venezuela, and graduated from dental school there in 2000. She moved to Chicago in 2002 with her husband and was certified as a registered dental hygienist here. She has a strong passion for dentistry with a gentle touch that will keep you comfortable during your dental visit.


Gabi currently lives in Oak Park with her husband and two kids. During summer breaks, they enjoy vacationing to Caribbean destinations so they can relax and enjoy the beach together. Gabi has backyard and butterfly gardens that she sets up every spring. She also enjoys yoga, crochet, and wheel throwing pottery. Gabi's go-getter personality is a perfect addition to our office!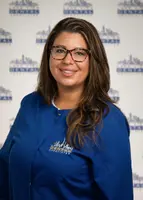 Maribel M., RDH, has been a dental hygienist since 2008 and holds an Associates of Applied Science in Dental Hygiene from Kennedy King College. She has been working on a Bachelor's of Science in Healthcare Management at St. Francis University. Maribel is certified in anesthesia, nitrous oxide sedation, and CPR.
Maribel is a U.S. Army Veteran Military Police officer. She was stationed in Killeen, Texas. She is happily married and blessed with two sons, Demitrius and D'angelo and one grandson, Adrian True. Maribel enjoys going to the movies, vacationing in all-inclusive resorts, and her most precious moments are spent with her family making memories.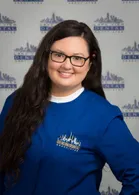 Andrea G., has been in the dental field since July 2014. She started working at Lake View Dental Associates in November of 2015 when she moved to Chicago. Starting as an assistant, she is now currently the office manager. Andrea was raised in Danville, IL and has her Associates in Biology from Danville Area Community College and most recently received her Bachelors in Health Information Management. Andrea enjoys running the office, making sure everything goes smooth for patients from start to finish.

Andrea has a passion for exploring new places. She also enjoys spending time with her family, taking care of her dog, and volunteering. She reads books on her downtime and loves learning new fun and exciting things. She is looking forward to further exploring the city of Chicago and getting to learn all of the things the city has to offer!
Sarah G., joined our team in August 2018 as our financial coordinator. She holds a Bachelor of Arts in Interdisciplinary Studies from NorthEastern University and is certified in CPR and also medical coding. Her role as the financial coordinator is to make your visit with us as financially hassle free as possible.
Sarah enjoys reading and watching murder mysteries, one of her favorites is Murder, She Wrote. She also enjoys cooking and experimenting with new dishes and spending time with her family and two cats, Dixie and Gus Gus. She loves tacos!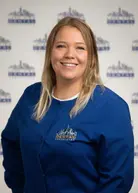 Krystina H., joined us at Lake View Dental Associates in 2012 as a dental assistant and is now our insurance coordinator. She had previous dental assisting experience and has been in the field for about four years before coming here. She is CPR certified and holds certificates in sealant/coronal polishing, nitrous oxide monitoring, radiation health safety, infection control, and general chair side certifications. Krystina's friendly personality keeps all of our patients feeling at ease during dental visits. She prefers to see the brighter side of things, and always has a smile on her face.
Krystina was born, raised, and still resides on the Northwest side of Chicago. She enjoys cooking and baking (occasionally), nature walks, water parks and anything with her two year old son, Ethan!
Erin H., joined us as our scheduling coordinator in July of 2020 and is new to the dental field. She grew up in Chicago and has lived in Great Barrington, Boston, and The Netherlands. She went to Emerson and U.I.C. and studied mass communication/TV. Erin has been a licensed esthetician for 16 years and is holistically and clinically certified. She is also a licensed leasing agent.
Erin is passionate in the fields of holistic health and wellness, and helping others. She enjoys travel and adventure. Her hobbies are yoga, sewing, design, and the outdoors.

Viviana M., has been in the dental field for 7 years. She is the newest member of our team and began working with us in September of 2020. She is CPR certified and holds a certificate in Coronal Polishing and Sealants.
Vivian enjoys game nights with friends, going to new restaurants, traveling, dancing, and bowling. She loves to go camping and sit by a warm fire. She is also interested in the stock market and enjoys trading currencies. Viviana was born in Mexico and moved to the southside of Chicago at age 7. She graduated from Hubbard High School. She is the oldest of 6, her youngest sibling just turned three years old. Vivi is the mom of a small Pomoranian named Daisy. She attends Newlife Midway Church where she is in a Young Adult Ministry Crossover. Viviana loves to spend time with her friends and family.
Maria L., is a seasoned dental assistant and has been in the field for 30 years. She joined Lake View Dental Associates in November of 2020. She holds certifications in CPR, OSHA, and coronal polishing.
Maria enjoys spending time with family, working out, going to Cubs games, reading, and traveling. She was born and raised on the north side of Chicago. Maria has been married for 35 years and is blessed with two daughters, one son, and six grandkids!
Jessica Z., has been in the dental field for 2 years and joined our team in December of 2020. She is licensed in Radiology in Indiana and holds a diploma from dental assisting school.

Jessica enjoys cooking and baking, exercise, and loves outdoor activities. She lived in Cicero, IL between 2001-2003. In 2003, she moved to and currently resides in Markham, IL.
Priyanka P., joined our team as a dental assistant in December 2020. She has a Bachelor of Dental Surgery in India. She is a registered dentist in India, where she practiced for 7 years. Priyanka is working towards pursing becoming a doctor of dental surgery in the U.S.

Priyanka resides in Streeterville, Chicago. She enjoys travelling, cooking, and listening to music.